Todd Fetters
Bishop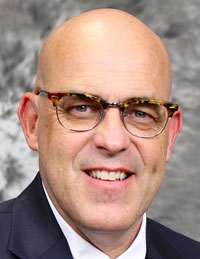 On August 7, 2015, Todd Fetters began serving as Interim Bishop of the US National Conference, serving the unexpired term of his predecessor.
Todd came to the national office in February 2013 after 24 years as a United Brethren pastor. Todd's responsibilities included various administrative duties, such as assisting with the process in stationing ministers, overseeing the national ministries staff, and developing strategic initiatives to move the UB church forward in such areas as leadership development and healthy church ministries. Todd also oversees the cluster system.
Todd grew up in a minister's home as the son of Dr. Paul and Barbara Fetters. Todd's two brothers, Brooks and Luke, are also ordained UB ministers. He graduated from Huntington University in 1989 with a degree in Bible & Religion, and in 1991 with the Master of Christian Ministry. More recently, in 2005, he received a Master of Arts in Religion from Evangelical Seminary in Myerstown, Pa.
In 1989, Todd became senior pastor of Lake View UB church in Camden, Mich., and the past 18 years as senior pastor of Devonshire Church in Harrisburg, Pa. He has served in various leadership positions, including cluster leader and, since 2005, member of the denominational Executive Leadership Team.
Todd and his wife, Lisa, were married in 1988. They have two sons, Jordan and Quinn.
---
---
On the Personal Side
Background
Born in Bluffton, Ind.
Raised in Huntington, Ind.
Hobbies / Special Interests
In my spare time I like to: read, golf, or play softball.
About My Wife
Lisa was born in Detroit, Mich. She lived for a year in Sierra Leone, West Africa, when her parents were missionaries. She attended and graduated Huntington University.
We met at Huntington University. Lisa was part of a group of girls that my friend and I would transport to restaurants. I thought she was the best looking of the bunch and the easiest to talk to.
Our First Date
She said "No" to me. Let me explain. Our first date began at 9:30 pm and we drove to the Ground Round in Fort Wayne. I thought she might like to go to "Putt-Putt Golf and Games" afterward. She didn't. So we went back to Huntington and sat in my car talking until 3 am. Seriously…all we did was talk.
When We were Married
I was 22 years old. I had lots of hair, even a mustache. A heavy snow storm shut down I-69, which kept people from attending.
About My Children
Jordan was born in 1991 and Quinn in 1994.
What I Like to Read
Theology and John Grisham novels
My Most Favorite Vacation
Rehoboth Beach, Delaware
In Regard to Pets
I have a dog named, Jazzmine. She is a mixture of a black lab and a German Shepherd. She looks more shepherd than lab.
An Interesting Job I Once Held
I was a garbage collector during the summers of my college years. Love riding on the back of the packer.
Accomplishments I'm Proud of
Being the pastor of Devonshire Church for 18 years.
Being named All-Conference Goalkeeper in 1987 while playing soccer for Huntington University.
---
Favorite Christian Books
"In the Name of Jesus" (Henri Nouwen)
"The Divine Conspiracy" (Dallas Willard)
"Between Two Worlds" (John Stott)
"Working the Angels" (Eugene Peterson)
"Too Busy Not To Pray" (Bill Hybels)

Favorite Movies
What About Bob?
Clear and Present Danger
Sandlot
Rocky 2, 3, 4, and 6
Frequency
Rookie of the Year

Favorite TV Shows
Blue Bloods
The Voice
M.A.S.H.
King of Queens
Coach

Favorite Places I've Been
Hong Kong
Baltimore
Washington DC
Los Angeles
Spain