Advice from Bishop Todd Fetters
For Navigating the Coronavirus Crisis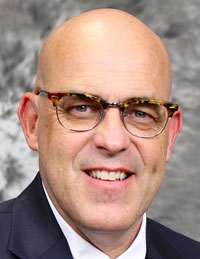 Todd Fetters, Bishop
The coronavirus has been on people's minds, and the urgency is escalating dramatically. The coronavirus is impacting schools, travel, conventions, concerts, the stock market, business operations, athletic events, store inventories, and much more. On a personal note, Jeff Bleijerveld and I were scheduled to fly to Jamaica this Saturday for General Conference, the international gathering of United Brethren leaders. On Wednesday, that event was cancelled and rescheduled for 2021.
Obviously, the coronavirus will impact church life. How should we respond?
None of us should be alarmist; Scripture cautions against living in fear. But neither should we tell people it's all an over-reaction. Conditions and knowledge are constantly evolving. All we can do is act on what we know right now. Next week, we can act on what we know then. Fortunately, there is much we do know about the coronavirus—how it spreads, who it preys upon, and sensible steps we can take.
What advice do I have for United Brethren churches in the United States? Let me suggest a few things.
1. Mobilize your church leaders to prepare.
Some church boards have been discussing what they need to do to prepare for the worst. Some are making contingency plans in case services are cancelled. Someone needs to be buying hand sanitizer. Think ahead. At this point, there is no excuse for being caught off-guard. I'm pleased to see that some UB churches are already making plans and preparing their congregations for what may be ahead. I would love to hear what you are communicating to your congregation.
2. Do what's necessary to keep from spreading the virus.
We know for certain that the coronavirus is highly contagious. So, in the weeks and maybe months ahead, advise your fellow churchgoers on practical ways to avoid spreading the virus. No hugging. Replace handshakes with elbow bumps. Cough into your elbow. Place bottles of hand sanitizer in the lobby. Wipe down doorknobs, light switches, and table surfaces. Use common sense.
3. Give vulnerable people permission to stay home.
We know the coronavirus is especially deadly for elderly people, and for people with compromised immune systems. You know who those people are in your church. Be proactive. Tell them, "I know you want to be in church and that you're not afraid of catching this virus. But we don't want anything to happen to you. We encourage you to skip church on Sunday morning, just until this blows over."
4. Instruct people who don't feel well to stay home.
It may or may not be the coronavirus. But err on the side of caution. Err on the side of protecting your congregation.
5. Think ahead about creative ways to stay relationally connected.
The Church is the Church, whether or not people gather in the sanctuary on Sunday morning. Some of our pastors preach via Facetime when services are cancelled because of a snowstorm. Use technology—phones, email, Facebook, texting—to keep communication channels open. Make sure people are kept informed about anybody who is hospitalized with the virus.
6. Be sensitive to the many ways the virus affects people in your congregation.
If schools close, working parents will scramble to make arrangements for their kids. Some people will suffer financial hardship because of their line of work—layoffs, shutdowns, etc. Vulnerable people still need to go out—to get food, fill prescriptions, meet doctors' appointments, etc. In times like these, let the Church be the Church.
7. Pray.
Pray for God's protection over your pastor(s), who will most likely be at greater risk of exposure than others. Pray for the vulnerable people in your congregation. Pray for those affected financially. Pray for our national, state, and local government officials, as they make drastic and unpopular decisions to safeguard public health.
I can't predict what will happen in the weeks ahead. Things could get far worse…or maybe they won't. We just don't know. So let's be smart. Let's engage in practices that can prevent spreading the coronavirus. Let's be especially protective of the vulnerable people in our midst. And let us not live in fear. "For the Spirit God gave us does not make us timid, but gives us power, love, and self-discipline." (2 Timothy 1:7, NIV).